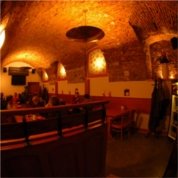 On October 1st 2008, we are opening our newly-reconstructed Private Dining Room, which is non-smoking with a capacity of 30-35 people. It is a multi-purpose room, equipped with a plasma TV, PC and Mixer Desk connections, and a small stage area. In here, you'll be able to play your own music, watch DVDs or photographs. The room can be reserved for company or private events, ie, Christmas parties, Training or presentations, Celebrations or small concerts or shows, children's parties etc.
For such events, we can offer buffet-style refreshments, prepared according to your requirements or to the character of the event.
For example, we offer: Italian specialities, grilled vegetables, stuffed peppers, grilled mushrooms and courgettes etc, as well as:
Cheeses
Home made and Italian salami & ham
Mixed platters
Salads
Roast meats with various sauces
Bakes – lasagne, filled potatoes, filled aubergines etc.
Children's Parties
Little people are very welcome at Kmotra. We can prepare, on request, pasta, fruit or vegetable salads, meatballs, pork or chicken nuggets, home-made cakes and pastries, ice cream and, of course, pizza with your choice of toppings.
Children's parties are held in our private dining room, giving you the luxury of knowing your event will be private and undisturbed, with little chance of losing your children (suitable for children over 6 years old)! The area is also suitable for other types of events and parties.
We look forward to seeing you here,
Yours Kmotra